No Comments
Surviving Finals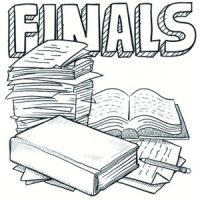 Jared Eatman | On 18, May 2017
Final exams are a stressful part of every student's life. Here are some helpful hints on how to prepare for your exams and get everything else done.
Test Yourself: If you create actual exam questions, you will likely become more familiar with what you need to study. It is easier to focus by quizzing yourself.
Make Flashcards: Creating flashcards is a really helpful tool for studying. By writing down the information from your study guide or notes, you are already doing half the studying.
Sleep: You need at least seven hours of sleep a night to function. If you are getting enough sleep you won't be able to remember any of the information you have studied.
Stay Healthy: Everybody knows you should eat breakfast the day of a big test, but stay away from caffeine and sugar. Good eats only. And drink plenty of water.
Put Away Your Phone: Put your phone under your pillow or somewhere out of the way so you won't be distracted when studying. You will realize how focused and how much you have got done after hiding your phone.
Finals are right around the corner. Follow these easy 5 steps to make sure you are ready to tackle them!