No Comments
October is Eczema Awareness Month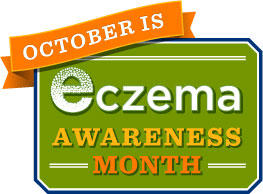 Brandi Davis | On 27, Oct 2017
October is not only the month of breast cancer and mental health awareness; it is also is the month of eczema awareness.
Eczema, atopic dermatitis, is a skin disorder characterized by constant itchiness, scratching, dryness, and skin discoloration. The constant scratching can break open the skin and cause it to bleed. Open cuts can leave the skin vulnerable to bacteria and infections if not properly treated.
Eczema can be found anywhere on the body. Eczema can located on the scalp, face, neck, chest, back, stomach, hands, arm folds, elbows, thighs, genital area, front and back of knees, ankles, and feet.
The cause of eczema still remains unknown. Eczema is not curable, but it can become manageable over time. Even though a sufferer may have been able to control their eczema, flare ups are still possible. An eczema flare up can be caused by stress, certain foods (acidic), allergies, perfumes, scented lotions and soaps, high temperatures, sweating, and fabrics (wool or polyester).
During the healing process, scars and skin discoloration can occur. Depending on the severity of the damaged skin, it could possibly take only a few months to a couple of years in order for the skin to return back to normal. The skin needs lots of attention, care, and moisture to heal itself.
Eczema not only leaves physical wounds and scars, but also emotional ones. Eczema sufferers can be very self-conscious about showing their skin. They have lower self-esteem and it's harder for them to form and manage relationships. The National Eczema Association (NEA) conducted a survey of parents and caregivers that showed that 1 in 5 children with eczema are bullied and 75% of them have low self-esteem.
Eczema differs from person to person. First, there are those who are fortunate enough to grow out of it as they become teenagers and young adults. Second, there are those who only have seasonal eczema. For example, they only get eczema flare ups in the summer or winter. Lastly, there are people who still suffer from eczema even  as full-fledged adults.
There are many creams, lotions, and home remedies used to battle atopic dermatitis. Doctors are still searching for a definite cure. You can donate to the NEA Funded Research to help find a cure and end eczema once and for all.