One Comment
Analysis: Brett Kavanaugh's Judiciary Hearing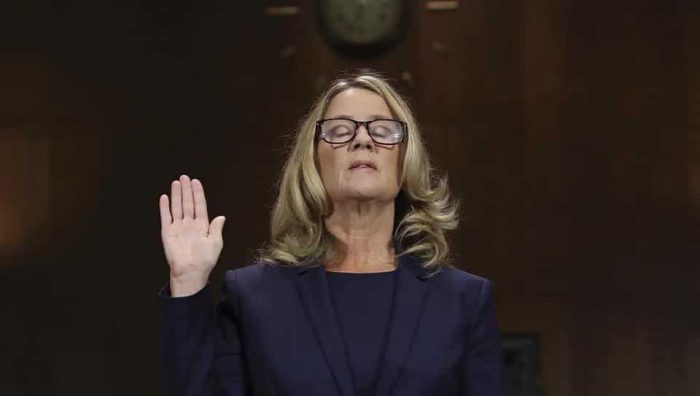 Pamela Rodriguez | On 27, Sep 2018
At 6:49 p.m., four and a half hours after the Judiciary Hearing for Supreme Court Justice nominee Brett Kavanaugh began, it finally came to an end. Various breaks and powerful statements later, the Senate floor had closed along with the indignant frustration from both Democratic and Republican senators alike. 
Brett Kavanaugh was informally put on trial today, after accusations surfaced claiming an event of sexual assault on his part that occured 36 years ago. The accuser is Dr. Christine Blasey Ford, who claims to have briefly been associated with Kavanaugh through mutual friends when they attended high school together. Dr. Ford was 14 and Mr. Kavanaugh 17 when the alleged assault took place. Dr. Ford testified today in front of the Judiciary court according to her own will, even expressing it being her "civic duty" to testify.
A sort of civic duty that was made clear as she went on to describe with detail the state of Kavanaugh that night in regards to his sobriety. She recalls him, along with his friend Mark Judge, being visibly drunk in comparison to her only having one beer. She then describes the attack it self, beginning with the push onto her back as someone (she didn't see who) pushed her into a bedroom. She then states that Kavanaugh and Judge both walked into the room and remembers "the uproarious laughter between the two, and they're having fun at my expense."
As Dr. Ford was questioned by both Republicans and Democrats alike (the latter showing more outright support) she was seen to preserve confidence and strong diction. She didn't flinch when her testimony was broken apart and analyzed, but instead remained expectant of the distrustful statements thrown at her.
Once her hearing concluded, it was safe to assume that Kavanaugh-supporting Republicans would be worried, as the spotlight was now on him to clear his name. Emotion and sincerity from his part were needed if he was going to gather sympathy from the public–and sympathy he got.
However, most of the unfaltering support unsurprisingly came from the Republicans on the Judiciary Committee. Senators such as Lindsey Graham (R) shocked most audiences when he became tearful at the fact that Kavanaugh was even testifying and even called it a Democrat led "sham." These words of sympathy and emotional candor were a pattern from the Republicans senators that spoke in defense of Kavanaugh for the rest of the hearing, and repeatedly mentioned the "hell" his family must be going through. Even though they did express the same respect for Dr. Ford's family, their backing was unquestionably with Kavanaugh.
Democrats, on the other hand, held onto their wish for an FBI investigation in order for Kavanaugh to clear his name or get to the bottom of some truth. At one point Sen. Dick Durbin (D) suggested that Kavanaugh be bold enough to turn to Don McGahn (White House Council) and ask for the hearing to be stopped so a proper FBI investigation could be held. Although Sen. Durbin was quickly stopped by Judiciary Council chairman and senator Chuck Grassley, Kavanaugh was left stomped and didn't utter a clear answer. It was repeated, that if Kavanaugh, after all the said stress and agony his family had gone through, truly wanted to clear his name, then he would demand an FBI investigation be conducted to end the Republican labeled "circus" the hearing had become.
Republican senators quickly came to the rescue and aimed heavy criticism towards the Democrat half of the Judiciary Committee for using an investigation has a ploy to delay Kavanaugh's Supreme Court nominated that is still at this time scheduled for tomorrow, September 28. In addition to this, Kavanaugh defended himself by stating his desire for a hearing a day after the allegations were made public, but claimed that he was denied one. When grilled further by California Sen. Kamala Harris (D) on whether he was "willing to ask the White House for an FBI investigation," he dodged and instead insisted that the FBI does not come up with a conclusion to the credibility allegations. Kavanaugh also stated that from the witness statements, none had confirmed knowing the sexual assault took place, however this does not equate to the event being fabricated by Dr. Ford.
Once the hearing was over, there was a strong sense of pity for Kavanaugh and the distress experienced by his family once the allegations surfaced. One of the more sentimental statements being how his 10 year old daughter suggested that they should "pray for the woman" (meaning Dr. Ford) while saying her bedtime prayers. Kavanaugh had an automatic advantage by testifying last today, as Dr. Ford testified this morning, and he used this advantage well.  
Those who went in with an open mind about the allegations or his deserving to be on the Supreme Court were left with an image of a good, innocent, God-serving, family man whose biggest crime was drinking a few beers as a teenager. This is the front page news story that the Republicans will no doubt run with and try their best to use in order to push his nomination through. There is heavy criticism towards the Democrats, who did not run with the story they were offered. A story of a woman that is sitting in front of a crowd of mostly men listening to the most traumatic moment of her life and judging whether her trauma is real. They had a story filled with emotion and powerful statements that could have put Kavanaugh's tears to shame. However, in attempt to possibly keep things on a more diplomatic side, they failed to broadcast the core message of Dr. Ford's testimony. If at anytime, today was the time to be passionate.
As American history has seen before with Supreme Court Justice then-nominee Clarence Thomas and accuser Anita Hill, a woman's word can ring at high volumes. In 1991, Anita Hill, a black woman, accused Clarence Thomas of sexually assaulting her, showing close parallel to Kavanaugh and Dr. Ford. In the same way the nation stood behind Anita, they stood for Dr. Ford, and in riveting waves many women and men expressed outcry at Kavanaugh's possibly nomination approval.
Despite the outrage in 1991, Justice Thomas he was confirmed and still serves in the highest court of the land today. Tomorrow, the nation will see if 1991 and 2018 are all that different.