No Comments
The Best Albums of 2018 Countdown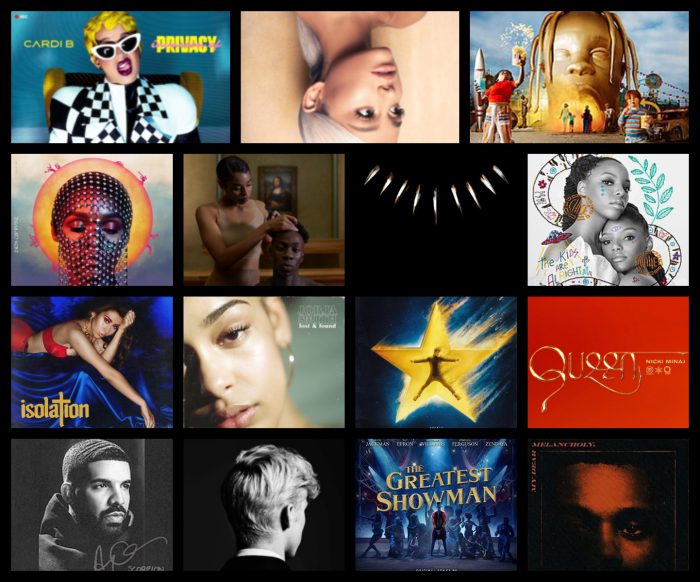 Bernard Guzman | On 30, Sep 2018
15. My Dear Melancholy by The Weeknd
My Dear Melancholy serves a collection of six songs that use the grime and fragility of broken relationships. Recollecting his early EPs back in 2012, this album goes through a magical R&B Night with heavy drug use and deep thoughts. It's dark, electro-soul, which is a perfect genre duo.
14. The Greatest Showman Soundtrack 
The movie itself is a very ecstatic piece, featuring lots of musical elements and an impressive plot line. I thought the movie was very enjoyable, but what captivated me the most was the music and production. The soundtrack is what I need if I want to it to be Broadway-vibe day. Each song is different than the last and each song has a different story from the real world incorporated into the movie as well. The songs themselves celebrate messages of empowerment and personal dignity that have the ability to span centuries.
13. Bloom by Troye Sivan
Troye's sophomore album explores the essence of innocence, passion, experience, delicacy and vulnerability. It's a delicate and warm pop album about life as a gay man. Bloom is an unambiguous statement from Sivan, clear in its intent to celebrate the highs and lows of queer love through the eyes of a proud pop star in the making.
12. Scorpion by Drake
This list wouldn't be complete with the man himself. Releasing the viral hit singles, "God's Plan" and "In My Feelings," Drake really hit the jackpot in 2018. With a number of 25 songs, the album is broken up to two parts, Side A and Side B. Taken separately, each is a functioning statement with different visions. They're two parts packaged to one giving his fans a feast to feed on.
11. Queen by Nicki Minaj
Starting her era with the singles, "Chun Li" and "Barbie Tingz," Onika really came in her beast mode this year. The fourth release for the rapper features artists from Ariana Grande, Eminem, Labrinth, Lil Wayne, Swae Lee, Foxy Brown, Future, and The Weeknd. When Nicki leans into her amazing strengths as a rapper, things get really exciting and an album of tracks as strong as "LLC" or "Good Form" would be one for the books.  As it stands, Queen is another chapter of Minaj's great albums she's released in her career. 
10. Cosmic by Bazzi
Bazzi is a brilliant artist with a mouthful of confidence and swagger. His breakout moment was from the hit single, "Mine", and introduced us to the artist himself. It is crystal clear that the album is personal to him where he speaks through his heart. He has relatable lyrics resonating with those who feel vulnerable and alone. Each track in this album gives all sorts of feels that'll punch you in the gut.
9. Lost & Found by Jorja Smith
Jorja showcases her debut album with vocals soft as butter and a gushing warmth of emotions. Lost & Found finds Smith showing personal lyrics discussing rejection and heartbreak. She documents her ongoing quest to discover how she fits into a troubled world and who she really is. Jorja fuses soul, rhythm and R&B that transports you to a heaven-like state. Lost & Found is the sound of a true talent who's stepping in with complete control of herself. She really brings a variety of styles and overall a very captivating album. 
8. Isolation by Kali Uchis
The Colombian-American singer comes in her debut with a world of her own. Isolation is very well crafted and succeeds though in combining her influences into a very enjoyable album. She pulls sounds from R&B, funk and reggae that perfectly positions herself as a true artist. Kali has created a lucid dreamscape where you can be whatever you want to be, self-venerated and free.
7. The Kids Are Alright by Chloe x Halle
The general public should definitely keep an eye on this duo. The Beyonce-approved sister act are reshaping R&B and pop in their own images. With their sophomore album, the duo continue exploring ideas from a variety of music. They blend them into a hybrid of influences and classify them into their masterpiece of an album. The Kids Are Alright celebrates the powerfulness of being a female. The vibe they give to their audience is very classy and mature, which makes them so unique/different. 
6. The Black Panther Soundtrack
The Black Panther movie itself is probably the MCU's (Marvel Cinematic Universe) best movie up to date. The cast, production, visuals, and plot really made the whole movie. Now the soundtrack on the other hand is a different story. Another whole world of its own. Kendrick Lamar leading the album was a brilliant decision. He is featured in five songs, but his input is left on the entire album as he goes beast on very one of them. His part on other artists' songs gives you a taste of his previous work,"DAMN." Kendrick has put together a set of collaborators including major names like SZA, The Weeknd, 2 Chainz, and Future. Also, rising stars like Jorja Smith, Khalid, Yugen Blakrok and Zacari. All these amazing artists created a masterpiece hip-hop album that complements Black Panther's themes and its status as a remarkable moment in film.
5. Everything is Love by The Carters (Beyoncé & Jay Z)
I remembered scrolling through Instagram one day when I saw what I saw. It was one of those Beyonce update accounts and they posted saying she released an album out of nowhere. Hearing this, I started to shake uncontrollably. Like…Beyonce? Beyonce??? Are we really getting new music from her since Lemonade??? In 2018??? Well spoiler alert…she did. Only this time, it's with her hubby, Jay Z. The two released the lead single of the album, "Apes**t", which is the perfect banger to listen to. Everything is Love benefits from the sophisticated elements of two superstars and blends R&B, reggae and soul. The album is the perfect ending to the Carter trilogy. the first two albums being Lemonade and 4:44. Both Bey and Jay integrated their talents into one excellent album. 
4. Dirty Computer by Janelle Monáe
This album??? Pure artistry and excellence right here. You have to be an intellectual to actually like this album and grasp what it truly is. Monáe, who identifies as pansexual, broke her latest album that touches on what it means to be a proud black, non-gender conforming individual in America. She also uses inspiring elements from familiar artists in her work such as the legend himself, Prince. Furthermore, the album shows us her creativity and vision as an artist who is willing to cross boundaries and traditional genres in music and film. She strikes the perfect balance between sadness and joy, offering a deeply account of Monáe's personal experiences as a black woman. As a whole, Dirty Computer will truly withstand as one of her most artistic projects of all time. 
3. Astroworld by Travis Scott
Travis really put everything into this. His third album is inarguably his strongest to date. The level of artistry and production that was put in truly shows throughout the whole album. From songs like"Sicko Mode"and "No Bystanders," Astroworld proves that it gives the quality bangers people deserve to bump to. Observing parts of the album, he allows himself to be more considerate and vulnerable. Overall, Scott owns an energy that is so forward-gazing, electrifying and ambitious that Astroworld feels as though it's from the future, rather than the present.
2. Sweetener by Ariana Grande
Ahhh! This woman right here? She is everything to me. She really owns my heart, my soul, my entire existence. Some people think she's snobbish or full of herself, but she's totally the opposite. She's the most innocent little bean in the entire galaxy and is probably one of the most down to earth celebrities there is. She really adores her fans and I can definitely see that through her interactions with them. She's so different from her peers and it's so amazing seeing her growth throughout the years. Ariana is the pop princess of our generation and no one can tell me otherwise. After struggling with the Manchester attack in 2017, Ariana came through in 2018 with the lead single, "No Tears Left to Cry." She then released the BEST pop album of 2018, gifting an amount of excellent bops. Here she showcases serenity, newfound love, female empowerment, and a little fun. It's a refreshing, cohesive package, placing her prominently in the pop landscape. Sweetener is Grande's best piece to date, and she'll continue to surprise the world with her angelic talent.
1. Invasion of Privacy by Cardi B
Invasion of Privacy? Number one? How? What? Why? Well you guys need to watch out for Cardi B! She's making money moves through the charts, her career, and to the general public. She is probably one of the artists that stood out most in 2018. Cardi, as a person, is responsible for countless jaw-dropping moments that excited the public. Her personality is fun, exciting, and positive, and she isn't afraid to be herself. Sure, she's done a lot of negative things, but at the end of the day she is who she is. As an artist, it's amazing how her career has skyrocketed since releasing her first hit single, "Bodack Yellow," back in 2017. She then began to work with a few features up to releasing her debut album, Invasion of Privacy. This album really makes you feel like you're riding a roller coaster with a rush of of energy and excitement. Cardi gave us what the other girls couldn't do this year. Sorry, but that's just the tea. This album is a true masterpiece from beginning to end, with no skips at all. The music is fun, relatable, and captivating. Cardi is full of fire, fierceness, and comedy gold, spitting bars in your face. She's on the radio 24/7, and you can't tell me you haven't bopped to her music. She is a dragon burning up the music industry with the full force of her addicting tunes. Invasion of Privacy is the most powerful debut of this year.