No Comments
Dual Enrollment Program Enters Second Year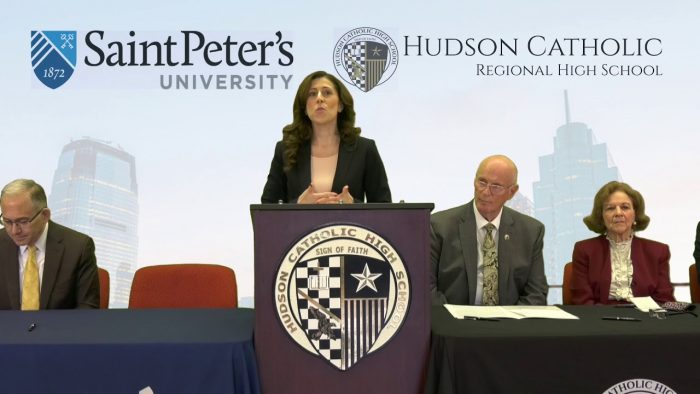 Aiden Imran | On 15, Oct 2019
Earning college credits before graduating from high school is incredibly beneficial for students. It affords them a greater chance to get into the colleges to which they apply and expedites the completion of core requirements.
This year, the St. Peter's University-Hudson Catholic Dual Enrollment program, established for the first time with last year's sophomore class, has entered into its second year, welcoming 19 new sophomores.
The initial DE class are now juniors. They completed summer classes at St. Peter's University, and are now enrolled in fall courses. When the spring semester begins, these juniors will have to face standardized testing and college essays. One thing is for sure: the workload is demanding.

Mr. William Venezia, a Hudson Catholic alumnus and current Dean of Special Programs, is the man who oversees everything going on with DE. He's also a link for Hudson students to be able to contact Saint Peters.
"The DE Program gives exemplary middle and working-class students and their families a great opportunity to obtain a college education at a reasonable cost without having sustained financial debt at the conclusion of their studies," Mr. Venezia said.
He went on, "I have a kinship with the DE students I work with due to my status as a Hudson Catholic and St. Peter's alum who had a similar family status as most of them. My father was a tailor who, when returning from WWII, could not afford to go to college. I am the second in my family to obtain a college degree. Consequently, I find my work extremely rewarding because I see my circumstances reflected in the students I work with at Hudson."

Without Mr. Venezia, students like junior Cheyenn Murray wouldn't be able to continue with this advanced program. This year is her second year.
"I think the program is a good experience to give you an idea of what to expect in college, and it helps me with my time management skills," Murray said. "I feel like I'll be more prepared for college."

For sophomore students, this program is completely new. Sophomore Naomi Fernandez said, "Entering the program feels very accomplishing but nerve-wracking. It is very rigorous but beneficial. Overall, it's an exquisite program. If I put in all of my effort and my time into this program, then it could go well. I do believe I'm prepared for it because I'm entering with a strong mindset along with motivation."

Junior Cheyenne Fulton, a student-athlete, said she is having a hard time juggling this program on top of all her sports.
Her words of advice to underclassmen interested in the program? "It's not what you think it is, but you won't regret the outcome."
DE is a demanding program that requires some tough grinding, but the benefits will certainly allow its students numerous opportunities in the future.