One Comment
How COVID-19 Has Affected Hudson Catholic's Seniors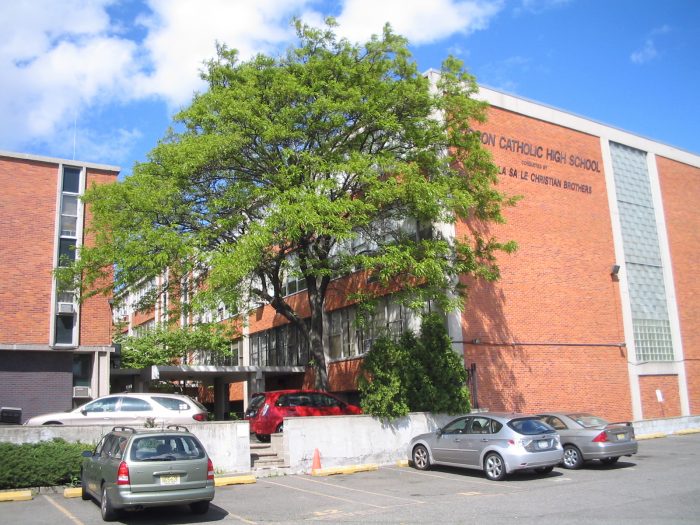 Multiple Writers | On 21, Oct 2020
By Erin Holloway and Ra'saan Stevens
Since the occurrence of the COVID-19 outbreak, schooling around the globe has changed quite drastically, especially for the seniors at Hudson Catholic Regional High School in Jersey City.
For the attendees, March 13, 2020 was unknowingly the final day of in-person classes. Many believed there would be an eventual return within a couple of weeks, but after the severity of COVID-19 became apparent, education turned virtual.
To recall, COVID-19, unabbreviated as the Coronavirus Disease 2019, is a highly contagious virus that has since turned into a global pandemic. Originating in China, the virus quickly spread to countries all over the world and subsequently forced closure amongst schools, businesses, facilities, restaurants and more. A new lifestyle of mask wearing, social distancing and extra cleaning protocol has been urged to the public. 
Subsequently, Hudson Catholic's principal, Terence Matthews, has made sure the school has undergone different procedures to keep its students safe from the virus. Students were given the option to choose complete virtual learning or hybrid learning, in which the student alternates between virtual learning and in-person learning at Hudson Catholic on different days. 
"The Hybrid students have been divided into Cohort A and Cohort B and will attend school on alternate days," Mr. Matthews said in an email sent to Hudson Catholic students and their parents. "When not in school, they will join the Virtual students online.  The result is that every student will attend class in 'real-time' five days a week."
In addition, students who choose hybrid learning must face Hudson Catholic's new, mandatory rules. These include wearing a protective face mask, spacing desks apart, forbidding the sharing of objects, and going in a single direction when using hallways and stairwells. All hybrid students were given two face masks, a bottle for water and hand sanitizer, and a screen protector to shield students from each other when in the classroom.
"Hudson Catholic has designed flexible instructional plans that work best in both traditional face to face and remote environments," Mr. Matthews continued. "Social distancing measures, room capacity, and staffing considerations have determined that Hudson Catholic can safely accommodate no more than 15 students in each classroom and the school has amended schedules to alternate students between in-school and remote learning."
As a result, the safety measures have heavily affected the extracurriculars Hudson Catholic offers. Senior students are especially discouraged by the changes, which have ultimately dulled their final year in high school.
Many have expressed their feelings and concerns passionately about the topic.
"I feel like we're not allowed to truly enjoy senior year," senior football player Amarrie Bolden said. "No pep rally, no fans at the sports games, no activities. We don't get to go out with a bang."
As a result of COVID-19, sport seasons have since been shortened and some have signed the possibility of being cancelled, while granted sport events no longer allow fans in order to urge social distancing. Only two parents per player and cheerleader are permitted.
Clubs no longer meet and have since been on hiatus.
"I feel like Covid is messing up my full senior experience," scholar and basketball player Jasmine Pierce shared. "It's messing up sports for seniors as well because this is supposed to be our last year to play and it also is making it more difficult to obtain a scholarship from colleges we want to go to.
Furthermore, athletes are also disheartened by the lack of time they get to spend with their teammates during practices and games.
"I can't really enjoy the time with my teammates due to the social distancing rule," soccer player Luis Carrasquillo noted. "Now we need to have masks when we're not in the field. It just doesn't feel the same as before."
Moreover, Some athletes even view their sport as what they were most passionate about and find their efforts limited.
"Cheer is definitely the one thing I was looking forward to throughout my whole junior year," an anonymous student remarked. "We can't do any team bonding due to social distancing and fundraising for the team is put on hold."
Some students also find their education impacted by the new rules and feel unable to learn properly with virtual education.
"It's harder learning from  home," Pierce continued. "You're not really learning. It's like we're cheating or just winging it and certain classes need to be taught in person such as math. Everyone is struggling and we're trying to help each other, but it's hard."
Senior Lisha Brito echoed Pierce's sentiments.
"It sucks that we don't have lockers and I feel like we have to carry way more things even though we're paperless," Brito said. "It's harder to learn online because you can't ask questions, and when you're the only one in class physically it can be awkward and uncomfortable."
Similarly, students that are a part of Hudson Catholic's Dual Enrollment program find themselves stripped of their early experience of college, unable to go to their second distributor of education, Saint Peter's University.
"Due to COVID-19, dual enrollment students have been taking their classes online. For some of us, we have labs but don't get to experience it. It just feels weird," dual enrollment student Shriya Patel explained. "If COVID-19 wasn't a thing, most of us would be able to experience what it's like to be on a college campus. It's all so strange now. I just hope things get back to normal soon."