No Comments
A Hudson Catholic Soccer Star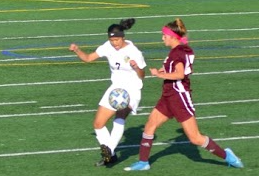 Ra'saan Stevens | On 07, Dec 2020
When senior Genesis Maravillas steps onto the soccer field, the ground could not possibly beam more bright! The Hudson Catholic girls' soccer team co-captain is no stranger to the thrilling and captivating sport. Since freshman year, she has stayed dedicated and loyal to soccer from multiple angles, ranging from her teammates to her own willingness to succeed. Now in her final year of high school, Genesis recounts her journey with the sport, giving The Commentator an insight into the soccer experiences that have changed her life.
Maravillas recalls the initial hardships she endured when first becoming a part of the team, reflecting on the obstacles she and the other players faced.
"I played soccer for a few years before high school, so I joined the team because I love the sport- but my freshman year, we did absolutely horrible and lost almost every game!" Maravillas admitted, laughing at the embarrassing troubles. "But Junior year was the best. We won the division! I was so happy!"
She went on to share an astounding relationship with her teammates, discussing the subject with a smile painted on her face.
"Of course there are arguments and disagreements here and there, but for the most part, we all get along pretty well," she started. "We used to have a lot of time to bond besides being on the field. We would all stay in the cafeteria, waiting for practice to start–doing homework together, goofing around, playing games, just having fun in general."
The smile on the soccer player's face then faded as she realized how much has been stripped away from her this year as a result of the COVID-19 virus.
"This year, because of the pandemic, I don't really get to see the girls besides practice or games so there's less time to bond," Maravillas explained. "But that doesn't mean we aren't still a family!"
Furthermore, COVID-19 has drastically changed the way all Hudson Catholic sport seasons operate.
"My coach wanted to start [soccer] earlier this year, but because of COVID-19, we started training a bit later than planned," she recalled. "Fortunately, the technology has helped us and we were able to schedule workouts on Zoom."
Maravillas, like most people, reported getting nervous when wanting to prove her strength and abilities.
"I do get nervous when we are going up against a tough team," she remarked, nodding. "I get more nervous physically. I feel butterflies in my stomach, but in my mind, I am more concentrated on doing my best in the game."
We then queried Maravillas on how she prepares for large games, aware that the pressure of wanting or needing to win can be overwhelming.
"Before a big game, sometimes I research and check the opponent's record and how they did against teams we both played against," she shared. "From that, I try to estimate how well my team might do. Other than that, I just try to do my best at practices."
Recently, the Hudson Catholic's girls' soccer team has performed outstandingly, which sometimes upsets opponents who have beaten them in the past.
"When another team shows off poor sportsmanship, I just shake it off!" Maravillas laughed. "I find it quite humorous, actually. It makes me chuckle when the other team is frustrated. I don't know if I'm crazy because of that!"
An injury during a game or practice could be a huge set back for both the player and their team, which happened to Maravillas last year.
"My friend accidentally kicked my ankle instead of the ball and my ankle got sprained. I was out for a portion of the season," she revealed. "I used crutches to get around, and honestly, crutches are not fun! Afterwards I was given a boot which wasn't really convenient either."
Unfortunately, her ankle still suffers as a result of the injury.
"Over the months, I keep reinjuring my ankle so it hasn't really fully recovered yet," she admitted. "I actually hurt it again a few days ago, but it was really minor so I'm fine."
Becoming the captain of the girls' soccer team was a huge accomplishment for Maravillas, but mainly it was a personal milestone. The position allowed her to break out of her shell and develop into the driven, brave person she is today.
"When I first joined the team, I was very quiet and shy," she recollected. "Now, I'm the captain and I support the team in a lot of different ways. The only thing that hasn't changed over the years is how the team is like another family to me. I'm definitely going to miss playing [soccer] at Hudson after I graduate!"