No Comments
A Conversation with Cook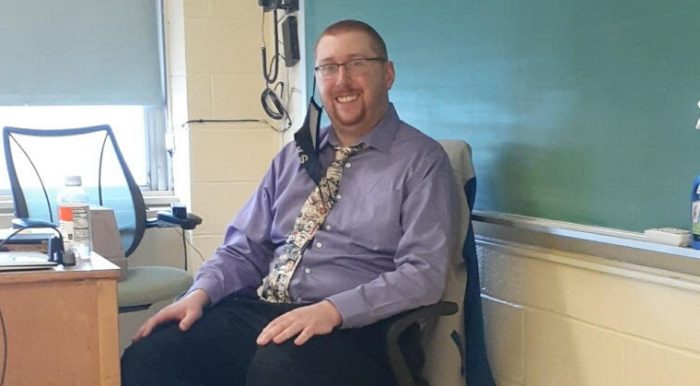 Ryan Salmon | On 06, Dec 2020
At this point, most students are familiar with Mr. Joseph Cook. A relatively new face in the Hudson Catholic staff, Mr. Cook has a reputation for being a very smart man with an amazing knowledge of history and politics. The Commentator had the opportunity to interview Mr. Cook to gain some insight into his personal life and upbringing.
Being new to Hudson Catholic, the first thing we asked him was how he felt on his first official school day here during the last school year.
"I was very uneasy because I was in a new environment," Mr. Cook said. "But at the same time optimistic because it was better than the last school I had been at."
For Mr. Cook, what he teaches is not just a passing interest – it is a passion.
"As long as I could remember, I've had an interest in history and politics," Mr. Cook said. "As soon as I knew I wasn't going to be a pitcher for the New York Mets, I knew I wanted to do this."
Pitcher for the Mets?
"My favorite team was always the Mets since I was a kid," Mr. Cook said. "It was my way of being rebellious as a kid. It's also because I like to torture myself, since the Mets likes to let everyone down."
Then, our interview took a short turn into his childhood, marking his most memorable childhood experience.
"I got to play at the IZOD Center in New Jersey for basketball," he said. "And then after, I got to meet some Nets and Bulls players. This was back in '95 when Jordan was on his break and playing baseball. I remember my dad getting an autograph for me from Tony Kukoč. He asked my dad, 'To who?' My dad said 'Joe.' Because he was still new to the States [from Croatia], he asked 'How you spell Joe?'"
The last tidbit we got from Mr. Cook was a little fun fact about what he considers his best talent.
"My best talent would have to be my encyclopedic knowledge," Mr. Cook shared. "I've always wanted to use my talent in something I'm good at, so I put my name onto the Jeopardy! name list. Sadly, because of Covid-19, I probably won't get in because entries have an 8-month expiration timer."
This is just a small glimpse into the life of Mr. Joe Cook, a man who is very smart, very capable, and a joy to speak with.