No Comments
Chemistry Legend Says Goodbye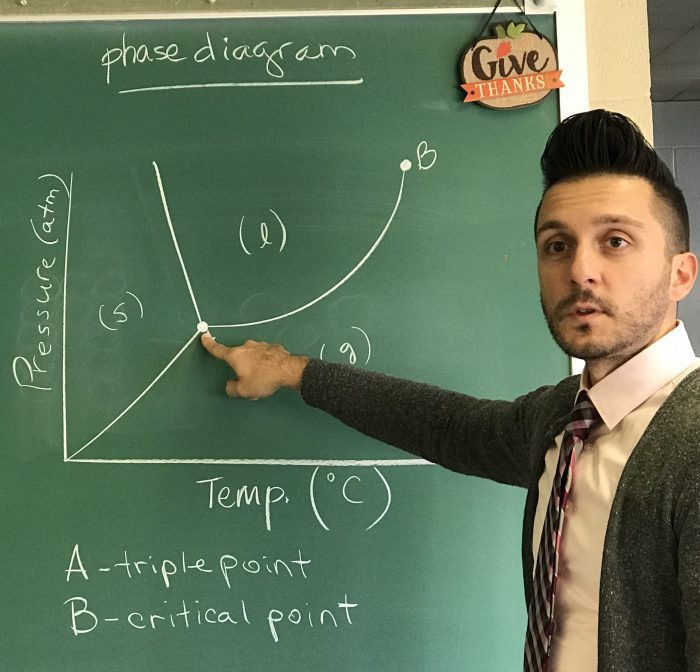 Sheila Perez | On 03, Dec 2020
On what began as a fine morning during the quarantine period last May, the legendary chemistry teacher Mr. Anthony Marmora broke the news to his "birds" (as he called us) that he would not be coming back to the Hawks' nest for the next school year.
This was a shock for many reasons, especially since he had been part of the Hudson Catholic family for twelve years, beginning as a student and then as a teacher.
Mr. Marmora first returned to Hudson as a substitute teacher as he was finishing his Bachelor's degree at Manhattan College. He was hired the next year (in 2012) to be a full-time chemistry teacher.
During his 8 years of full-time teaching at Hudson, he taught all levels of chemistry, including AP Chemistry. In addition, he oversaw the Middle States Accreditation process, the Bookstore, and the STEM program–quite a workload for the man who first entered Hudson as a mere freshman.
Mr. Marmora is probably known for being a "strict" teacher, due to his ability to push students to be on time, to be respectful, and to be all around successful. 

Fortunately, Mr. Mamora revealed that he is doing wonderfully in his new position. He also wanted to do something different, to push himself and expand his horizons.
"The job that I ended up taking allows me to do a different side of teaching that I wasn't able to do at Hudson," Mr. Marmora shared. "It was very sad to leave my students and friends. It was time to move on. Life is all about changing."

As we all know, Mr. Marmora was born and raised in Jersey City. For his new job, he had to move to Long Island, NY. One might think the local culture would be quite different, but Mr. Marmora said the opposite.
"Honestly, it's the same thing," Mr. Marmora said of his new school. "There's not much difference with people or anything like that … The living part is the same, it's just the teaching part is very different."
Mr. Marmora now teaches 8th and 9th grade science. For the first year in his teaching career, he is not teaching chemistry.
"[Teaching at this school] is very different," Mr. Marmora explained. "First and foremost, the major difference is that I am not working at a Catholic school. My students and I don't go to mass or any of those things. That is very new to me. Students are different, they are younger. I am used to teaching sophomores and seniors, and freshmen are very different. It's been a learning experience."
Though everything is going well, there is no doubt that Mr. Marmora misses his home and his birds.
"I miss all my birds!" he exclaimed. "I am so happy you used that word. So, last year, I taught 4 sections of sophomores and 1 section of seniors. The seniors I taught last year, I was very sad [about] the way I ended my career at Hudson, not being able to say goodbye to them and also for them. Because of COVID, they didn't get the farewell they should've gotten. I was very sad about leaving a lot of my sophomore birds, [too]."

Mr. Marmora is known for making connections with his students, pushing them to be great students as well as great people. Some might not know that Mr. Marmora was a bit of a social butterfly among the staff members as well.
"I really miss my co-workers A LOT," Mr. Marmora continued. "I have great coworkers now, but my coworkers at Hudson were truly my family… I probably miss Mr. Bongiorno the most, but also Ms. Lucas-McGady, Mr. McGady, Ms. Schreiber, Ms. Hoffman, and Ms. Martinez. I miss all of them very much."
Throughout the tragedy of COVID-19 pandemic, there have been some bright spots: many have found themselves in new ways, and many have gotten closer with their families. Mr. Marmora is no exception.

"It was nice to have those 4 or 5 months of being with my family," he said. "I knew since March that I was leaving Hudson. It was nice going into COVID knowing that I would be spending that much time with my family and just really appreciating the smaller things in life."

Before our conversation ended, Mr. Marmora shared some final words for those of us still here at the Hawks' nest.
"I love them and I miss them so much," Mr. Marmora said of his former students and colleagues. "My students, my birds, you learned from me and I learned from you. With my colleagues, I just really miss the camaraderie between us. My 8 years at Hudson were very special and I wouldn't trade those 8 years for anything."
Looking back, Mr. Marmora expressed nothing but fondness for his alma mater.
"Definitely cherish your time at Hudson," Mr. Marmora urged. "It really is the best."