No Comments
A Night of Honor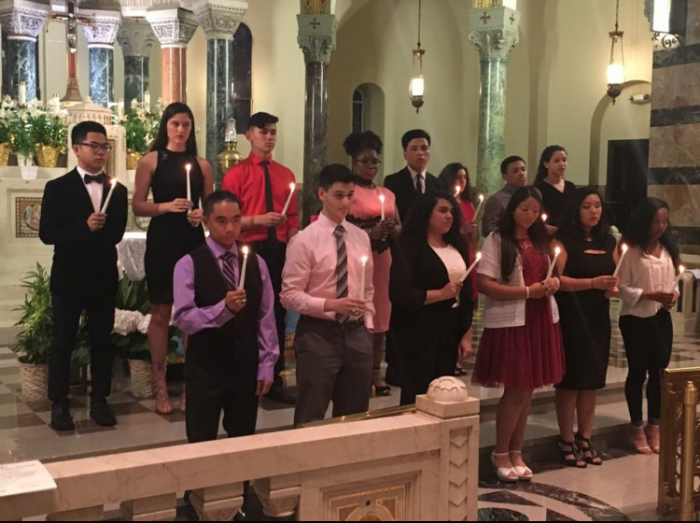 Brandi Davis | On 03, May 2017
On April 27, 2017, at 7pm the National Honors Society ceremony took place at St. Aedan's Church right next door.
Seniors were corded by their favorite or closest teacher, followed by the juniors being sworn in to the National Honor Society.
The beautiful ceremony was hosted by biology teacher and the head of the Hudson Catholic NHS, Ms. Debra Lucas-McGady. She had the assistance of Principal Garibell and Mr. Terence Matthews throughout the ceremony. The beginning of the night was for the graduating seniors to be "coreded" with gold cords placed around their neck by their favorite Hudson faculty member. Hudson Catholic's infamous chemistry teacher, Mr. Anthony Marmora, had a total of 7 students that were corded by him. The rest of the night was left for the juniors to enjoy.
The 14 junior NHS inductees were introduced by Mr. Matthews. They each lit a candle, agreed to the NHS pledge, then signed their name and class year into the official NHS book. After doing so, they received their certificates, golden pins, as well as their hugs from Ms. Lucas-McGady. The juniors were reintroduced as the newest members of the NHS and were applauded by proud family members, friends, and teachers.
Deacon Karal gave the students a final blessing, reminding them that they have amazing talents that come from God and that they should be used to help others. Lastly, Principal Garibell spoke about the characteristics of a NHS member which consist of scholarship, service, character, and leadership.
After the beautiful ceremony ended, students thanked teachers and parents and took photos with their friends, faculty, and family. 
The ceremony was followed by light refreshments and conversation in the cafeteria.