One Comment
D&D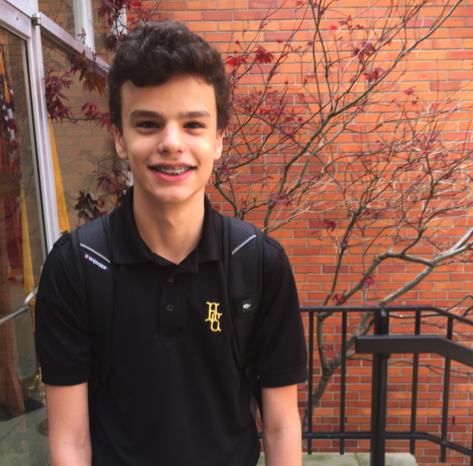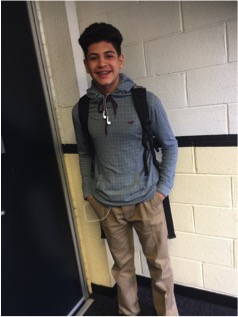 Mathew Botros | On 11, May 2017
David Hernandez and David Carrera are both finishing up their freshman year at Hudson Catholic. Though these two Davids come from different backgrounds, they have forged a friendship in part because of their time spent together on the swim team this year. Let's get to know this dynamic duo of Davids.
Let's start with David Hernandez.
TC: You participated both on the swimming team and the baseball team; what is the difference between your shifts and how you manage to work it out with your school life?
DH: The shift was really easy because swimming was like family-oriented type of atmosphere and so is baseball. I've known some of these guys since I was little, but some are new faces. They welcome me with open arms.
TC: Do you have a favorite baseball player?
DH: My favorite baseball player is Giancarlo Stanton from the Miami Marlins.
TC: If David Carrera were here right now, what would you say to him?
DH: That for the next three years of swimming we're gonna have to step up our game up and do our best. During the off-seasons, we're going to have to be stronger and faster and improve our methods.
TC: What does it feel like when you're not doing your best for the teams?
DH: I feel lost when I'm doing bad, like say I'm slum when I'm hitting or say I'm not pitching well. Or in swimming, say in one of the events I came in last place or whatever. That's when I feel lost and that's when I know I have to go back to the basics.
Now onto David Carrera!
TC: How'd you manage being a scholar at Hudson Catholic and being on the swim team?
DC: Well, it's not really too hard. Everyday after school, I'd sit before swim practice and do my homework, catch up with the news, and then after swim practice, I'd just go home like a regular. It didn't affect my schedule too much.
TC: Do you like any other sports?
DC: I like baseball and soccer and tennis, though I haven't done them this year. I plan on doing tennis next year.
TC: Do you have a favorite team player on any sport?
DC: No, I don't really watch sports on TV. I just play them.
TC: If David Hernandez was here, what would you say to him?
DC: Man, he was really, really, a cool guy during swimming. And I can't wait for the next three years of swimming. With both of us guiding the team, with our improved strengths, I think we'll do good in counties next year and the years to come.
TC: What are your thoughts on next year's freshmen?
DC: I did get some Hawks. I gave them a bit of advice. I really think the best thing to know is that it's really not too difficult fitting in. You just have to really not get too worried that anything bad is going to happen. You know, go with the flow. You don't have to do things too quickly.