No Comments
Marmora the Chemistry Master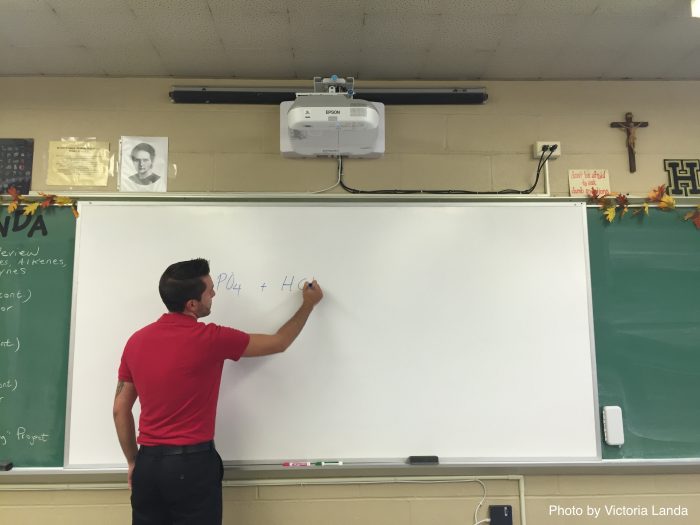 Javier Herquinigo | On 15, Apr 2019
We sat down with our very own Mr. Marmora to dig deeper into the life of the chemistry master behind room 329.
His daily life is, as you can imagine, extremely organized. A day in his life can be best explained through his own summarization: "I teach, go home, grade what needs to be graded, plan, email parents, and try to relax with family, friends, and whatnot."

He even gave us a little organization tip that he follows, "I am very organized with everything that I do, as everybody knows. So what I like to do is make a checklist every day and I tend to do it the night before of things I need to get done."

Mr. Marmora attended Hudson Catholic and was a member of the class of 2008. He was a well-rounded student with heavy involvement in school activities. He recalls, "I was on student council. I did LaSallian Youth. I was in NHS and I was vice president of it my senior year. I always got first honors and just worked. Grades were always really important to me and they continued to be throughout college and in graduate school."

Mr. Marmora's class was going to be the last class of Hudson Catholic before the school made the decision to go co-educational. We asked him how things have changed now with girls in the school and he said "the vibe is great now in the building now that its co-ed."

After Graduating from Hudson Catholic, he attended Manhattan College in New York where he "learned a lot about independence and time management." He stressed how "it was a busy time, especially sophomore and junior year, because [he] was taking so many lab sciences, so [he] felt like there was a lot of work." Mr. Mamora added, "I definitely always made it a point to enjoy [myself] and get that college experience."

He has always loved science ever since he was a young boy, and he recalls being a science nerd.
"Even in school from being really little, I remember always loving science class and I really like making things and experimenting," Mr. Marmora said.

He got his start as a teacher back in 2012, working as a substitute. During that time he had to balance having a job and being a college student. He was a daytime sub and right after he finished work, he would go take his general education night classes.

Although many consider him to be an inspirational teacher, he shared that he has had many in his whom he has looked up to.
"My parents. I look up to them because they've just done so much for me. My students inspire me… some of them. In terms of my science teachers growing up, my 7th-grade science teacher, Mrs. Deman, will forever be kind of the driving force for me loving science, and then Sister Eleanor when I took chemistry here, and Mrs. DeBellis for Bio."

Of course, we had to dig deeper into his life to find out what the chemistry genius does during his free time when he is not enlightening students.
"I am friends with some of the people I work with so we make it a point to go out and hang out like go to the movies, dinner, and stuff like that. That's really it. I don't live a crazy life. I'm a professional."

Mr. Marmora is a chemistry mastermind who has dedicated his life to teaching the young students of Hudson Catholic. He is much more than a teacher and has served as a mentor and role model for many students through his seven years.
He emphasized, "I just want students to value their time in high school because it's 4 years you're never going to get back. As awkward as people may think it is and how dramatic people can be with it, I just think that managing time and doing well in school really sets the way for college. And then doing well in college kind of sets the tone for what you're going to be doing for the rest of your life, not that you can't change what you're doing, but I think it's important to have goals and to do everything to achieve them. And then once you achieve them, make more goals."

Mr. Marmora is truly an inspiration and we are so lucky to have him as a teacher at Hudson Catholic.