No Comments
Has COVID-19 Made You The Person You Are Today?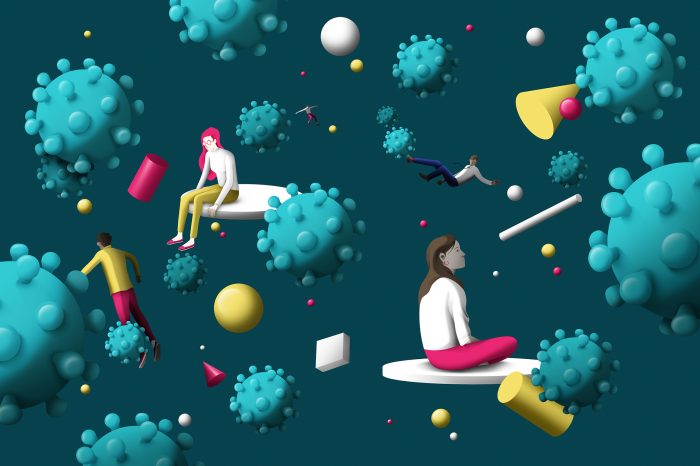 Multiple Writers | On 26, Oct 2020
By Bernadette Matutino and Danielle Vega
High school students already know the struggles of waking up for school, passing that impossible test, and staying up late to finish homework, but this year has probably been the hardest of all. Getting used to the new way of virtual learning has to be the most challenging thing high school students are dealing with today.
Even when classes end for the day, the stress and uncertainty doesn't. Not knowing if they're going to be able to go to those basketball, football, or volleyball games to support their friends is the difficult new reality of extracurricular activities.
Rites of passage have been interrupted as well. One of the major milestones seniors look forward to before graduating is prom, and the truth is that no one knows for sure whether there will be a prom at all.

Members of the Hudson Catholic community were asked the same question with the goal of seeing how COVID-19 has affected their personal life.
The question was, "Do you think you'd still be the person you are today if COVID-19 never existed? If not, how has it reshaped you?" Their answers were eye-opening.

"COVID-19 has definitely had an impact on the person l am today," sophomore student Alyssa Rivera said. "It has instilled worry, fear, and uncertainty of what is to come. This whole experience has made me more cautious of my surroundings and the things I do on a daily basis. I find myself more aware of the things I have done in the past that I can no longer do today because of the pandemic." 

During these dire times, there have been many who have not been fazed, but as you can see, there are also others who have been greatly affected both mentally and emotionally as a result of the fear this pandemic has caused.

"Yes, I would still be the same person if Covid didn't exist," student Souleymane Doumbouya said. "Because it's a pandemic, so it's like, it shouldn't change you as a person. If anything, it should make you appreciate life." 

There are some people that feel as though life has become completely different now that they've experienced this many life changes so quickly.
"If COVID-19 never happened I feel as though I would have been a completely different person than it has shaped me to be," student Sabrina Diaz said. "I think I would have been more free to do things any other sixteen-year-old could do. Due to COVID-19, I am not allowed to hang out with lots of my friends or go places because I would be putting myself and family at risk." 

Some have considered quarantine a benefit–a rare chance to slow down. 

"As a mother and a wife, it has been a blessing," English teacher Mrs. Lisa Matrale said. "During quarantine, I was able to spend so much time with my son that I would not have had otherwise. I never missed a milestone during his first year of life, and for that I'm grateful."
That being said, teaching has become much harder, Mrs. Matrale acknowledged.
"Teaching virtually is quite possibly one of the most difficult things educators have had to endure. At times, it feels like our workload has tripled. We're trying to do everything humanly possible to keep our students engaged."

Many students, especially seniors, are saddened due to the fact that they are missing several milestones in their high school career, though it is important that they make these sacrifices for their safety and the safety of others. 

"This year was definitely unexpected, but lucky I'm not the sentimental type as far as school goes – but that doesn't take away from the fact that I'm missing out on making memories with my friends," senior Alexa Martinez admits. "It saddens me to think about how different things will be for the rest of the year although I'm keeping my head high because I know this is just one obstacle we have to go through and in the long run it will teach us so many lessons."

Many students have found the balance between the ups and downs in their lives during this pandemic, and have learned to, or are still learning to, adapt to the many changes their lives underwent in these few short months. 

"If COVID-19 never happened, I would be stressing over what to do as acting student council president and running around from sporting event to sporting event," senior Nicole Acanto stated. "Honestly, it's given and alleviated a lot of stress. I'm not working as much in school and staying out later for games and such, but also I'm trying to learn how to do school remotely and spending a lot of time by myself.

Though this pandemic wreaked havoc upon the world, students and faculty found little pockets of peace during the seventh month quarantine. Whether it's spending quality time with their loved ones, alleviating school induced stress, or even diving into one's self improvement, it is evident that the pandemic has affected everyone in a unique way.