No Comments
Getting to Know Senior Justin Vilomar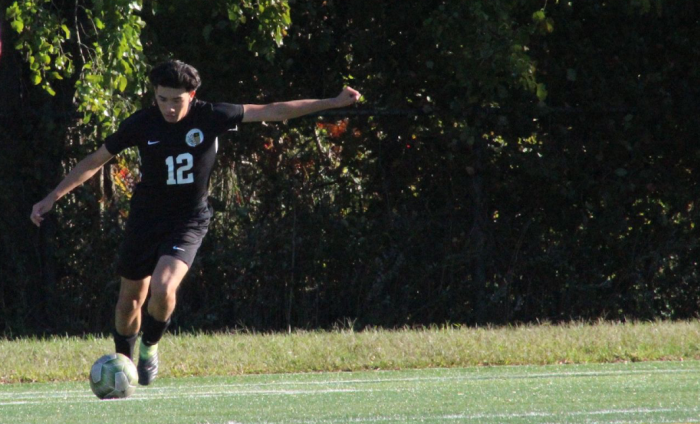 Sophia Wintonick | On 29, Jan 2021
When presented the opportunity, I jumped at the chance to interview one of my first friends here at Hudson Catholic. Meet senior Justin Vilomar!
Vilomar is a team captain on both the boys' soccer team and the boys' volleyball team. He has played both volleyball and soccer here at Hudson Catholic for all four years and hopes to continue playing soccer at the collegiate level. But when and why did he start to play soccer in the first place?
"I started playing soccer when I was 6 years old," Vilomar said."I would watch my friends go to the field and I always begged my parents to let me go until they finally let me. As soon as I kicked the ball, I knew it was something I would love to do for the years to come."
Vilomar's love for the game may have started at age 6, but it he sees it continuing well into the future. When he gets older, he plans to coach.
"I have definitely wanted to Coach soccer when I grow up," Vilomar reported. " I don't see myself doing it as my career though. If anything, I would use coaching soccer as a side job for fun."
Justin talks very confidently about soccer and his team. He is someone whom many underclassmen look up too.
"When I was an underclassman, we all looked up to the seniors," Vilomar remembered. "It's a weird feeling knowing that now I am one of those seniors they look up to."
Soccer has become a huge part of his life, and he is hoping to play at the collegiate level. I was intrigued by the way he expressed himself: he was very positive and passionate about what he had to say. Covid has taken away a lot of fall and spring sports seasons at the high school and collegiate level, but thankfully the Hudson Catholic's boys' soccer team is still playing and staying healthy.
"It has just been another thing to worry about throughout the season," Vilomar said. "It definitely added some stress to the team because, for example, we already had one of our games cancelled due to a Covid case at the opponent's school. The best thing we can do as a team and as a school is just staying healthy and following the guidelines."
Since many colleges have canceled or postponed their seasons, they have not been able to reach out to as many incoming students about the upcoming seasons as they normally would, and this has been an issue for Vilomar.
"Covid has affected the way college recruiting is for soccer," Vilomar shared. "There haven't been any camps for college coaches to go to, and that's where most kids get recruited from."
As we finished talking about the athletic side of his life, I wanted to know more about his support system and how his family and friends have helped him get to where he is in life.
"My support system is the best and is something I am so thankful for," Vilomar said. "I am very blessed to have such an amazing family and friend group who supports me and helps me succeed in life."
Knowing that he has such a tremendous support system by his side, I wanted to know more about his academic lifestyle and how he works with time management as a student athlete.
"Time management has been a huge part of my life these past four years in high school," Vilomar said. "I have become really good at making my schedule for the day, whether it is for school, sports, or my life outside of school. I have two different jobs, one as a referee at JCSA [Jersey City Soccer Association], and I also work at FootLocker. Having two different jobs has helped me with time management a ton because it gave me more opportunities to practice time management outside of school."
With the good academics that Vilomar has, I wanted to know who his favorite teacher is and why.
"My favorite teacher would have to be Mr. Cook. He is so intelligent and makes history fun to learn," Vilomar stated with ease.
To end the interview, I pressed Vilomar for advice he would give to middle school students who want to attend Hudson Catholic.
"If you are interested in coming to Hudson Catholic, I definitely suggest that you come. You have to be ready to put the work in, [as] Hudson Catholic does not deal with people who slack off. Things are always changing and you need to be ready to work around those changes. You learn a lot from the environment you are in, and it definitely helps teach you life lessons from coaches, teachers, and friends."